CMFTO's 6th Annual Clutter Challenge: Stationery and Cards
April 16, 2020
---
This week, our 6th Annual Clutter Challenge is looking at Stationery and Cards. If you're anything like us, you probably have a drawer filled with miscellaneous paper goods that will be just right for use sometime in the future. Unfortunately, we've moved away from snail mail and letter writing, in favor of the digital mediums of texting, messaging, and emails. Facebook birthday wishes are now the 'norm,' which leaves us asking ourselves: What do I do with all these cards?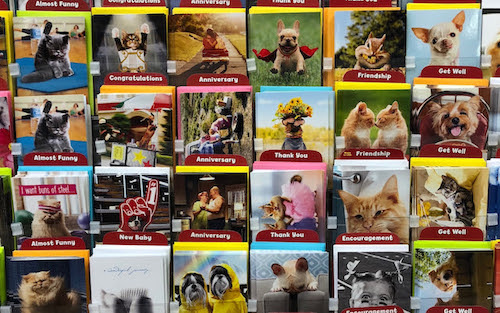 Not so long ago, we used to send more mail. In fact, the quantity of first class mail being sent annually has been dropping steadily for almost two decades. In 2000, there were almost 103.6 million pieces sent. In 2019, less than 55 million. (click here to learn more) Our correspondence habits have died off.
However, whenever we go into a client's home to help them organize, declutter, or pack, we inevitably find the designated drawer (or box) filled with stationery and cards. It seems we are all a little nostalgic for the days when we received notes from friends and families afar.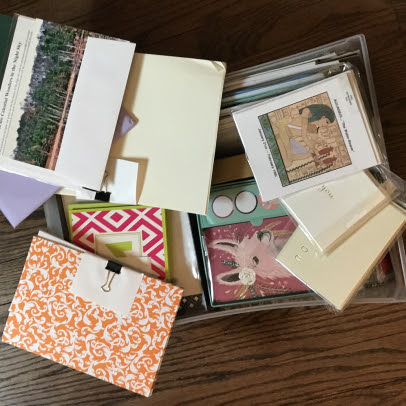 So, what do you do with all those cards and pieces of stationery? Firstly, make a plan to use them. perhaps you won't use every piece, or perhaps the "right" situation hasn't presented itself for that one card, but you can still use the majority of your paper goods, if you make a plan.
We often suggest to our clients to organize their drawer of cards and stationery to make it more readily available for use. To begin, you'll want to have manila folders, or shallow boxes at the ready. Then, you start by sorting the stationery from the cards.
Stationery. If the stationery is still relevant, meaning it has your correct name and address on it – you can still use it for correspondence. If, however, it's outdated, you have two options: 1) recycle it (taking care to remove any personal information, like an address, even if it's old), or 2) turn it into scrap paper for your home. Everyone needs piles of scrap paper at the ready. An easy way to convert your stationery into scrap paper is to a) cut it down to a smaller size (usually in half), and b) hole punch a corner and tie it together with ribbon. Voila! A homemade scrap paper pad.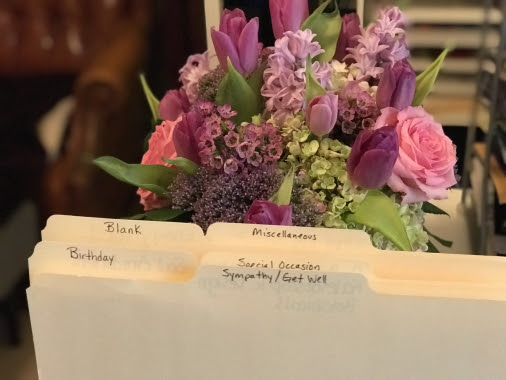 Cards. The easiest way to deal with boxes of cards is to sort them into categories and store them in manila folders. The most common categories for cards include:
birthday
blank
sympathy/get well
special occasion (wedding, baby, anniversary, etc.)
Miscellaneous (retirement, new home, just for fun, etc.)
Once sorted, these cards can be stored flat in a shallow box, or vertically in a file sorter. Either way, it will be much easier to find your next card in your own home, rather than running out to the store.
Finally, if you don't want to keep your cards and stationery, you can probably recycle all of it (check with your local recycle rules), or you can donate the cards. A lot of organizations accept old greeting cards, if they are unused. Some include: retirement centers, women's shelters, daycare centers, and churches. St. Jude's Children's Ranch also has a card recycling program.
Regardless of what you choose to do with your stationery and cards, hopefully this week's clutter challenge has got you thinking about connecting more with friends and family, both near and far.
All my best,
Claudia