End of Summer To-Do: Enjoy the Fruits of Summer… into Fall
---
There's nothing better than visiting your local farmers' market throughout the summer months. It's a "must" on our weekly schedule. However, as this culinary gem begins to wind down in August and September, I like to buy a little extra and prep it for the colder months ahead.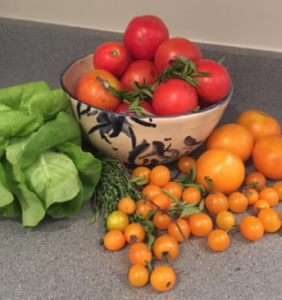 Specifically, I purchase lots of tomatoes while they're at their peak, then take them home and roast them before freezing them. This ensures that I can have fresh roasted tomatoes throughout the winter, which are perfect for my favorite recipe, Tomato Risotto by Andrew Carmellini, whenever I need a taste of summer in the midst of colder days. Yum!
Here's the recipe for this wonderful side dish – though, you can also use it as an entree, if you prefer. I've certainly done it! It may seem long, but it takes less than an hour, once the tomatoes are roasted. (Hint: roast two pans at a time and freeze one for winter days.)
Tomato Risotto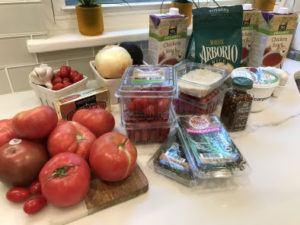 Ingredients (in order of use)
1 lb tomatoes (about 8 small beefsteaks)
1/4 tsp each sea salt and coarse-ground black pepper
1 tsp fresh thyme leaves
1 tsp finely chopped fresh rosemary
1 clove garlic, sliced Goodfellas thin
2 cups halved cherry tomatoes
2 tbsp extra-virgin olive oil
pinch of salt
5 cups chicken stock (or vegetable stock or water)
1 tbsp butter
1/4 cup extra virgin olive oil
1 small onion, chopped (about 1/2 cup)
1/4 tsp red pepper flakes
2 cups Arborio rice
1/2 cup white wine
2 tbsp mascarpone cheese
1/4 cup grated Parmigiano-Reggiano, plus extra for sprinkling
1 tbsp chopped rosemary
1 1/2 tsps salt
1/2 tsp coarse-ground black pepper
---
Step 1: Roasting Tomatoes
Preheat the oven to 400º.
Cut the beefsteak tomatoes in half and lay them face-up on a sheet pan. Sprinkle with sea salt, pepper, thyme, and rosemary. Lay a slice or two of garlic on top of each half.
Bake the tomatoes on the middle rack of the oven, uncovered, until they're a bit grilled-looking and soft and yummy, about 1 hour.
Remove the tomatoes from the oven and allow them to cool to room temperature.
Chop the tomatoes roughly and reserve them in a bowl, along with as much of their liquid as you can retain.
---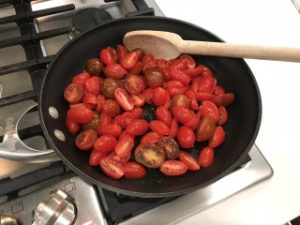 Step 2: Prepare the Tomato Topping
Gently cook the cherry tomatoes, olive oil, and salt together in a small pot over low heat until the oil is bubbly, the tomatoes are soft, and the mixture looks like a chunky sauce, about 20 minutes.
Remove the topping from heat and reserve.
---
Step 3: Prepare the Rice
In one pot, put the stock (or water) on to boil.
In another large pot, melt the butter and olive oil together over high heat. Add the onions and sweat them until they're really soft, about 2 minutes, stirring as needed so they don't color or brown.
Add the red pepper flakes to the onion-butter-olive oil mixture and stir to combine.
Add the Arborio rice to the mixture and mix well, so all the rice grains are coated, about 1 minute.
Add the white wine to the rice mixture and continue cooking, stirring constantly to ensure that none of the rice sticks, until the wine has been completely absorbed and the rice is soft but not sticky, about 1 minute.
Add 3 cups of the boiling stock (or water) and the chopped baked tomatoes with their liquid. Continue cooking, stirring occasionally, until the rice is al dente, just beginning to cook through, and the stock (or water) has evaporated, about 7 minutes.
Add the remaining 2 cups of stock (or water) and continue to cook, stirring well and often, until the rice has absorbed most of the liquid and become a thick, liquidy stew, another 7 to 8 minutes or so.
---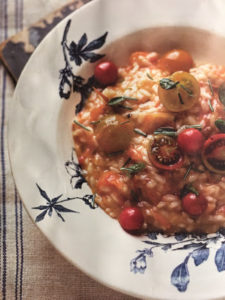 Step 4: Finish the Dish
Remove the risotto from the heat.
Add the mascarpone, Parmigiano-Reggiano, rosemary, salt, and pepper. Mix well, so the risotto becomes rich and well combined. If the risotto is too thick for your taste, add a little leftover stock or water.
Serve in individual bowls, topped with the tomato mixture (the cherry tomatoes), and a little more Parmigiano-Reggiano. Or serve "family-style" in one large bowl, for the perfect side dish.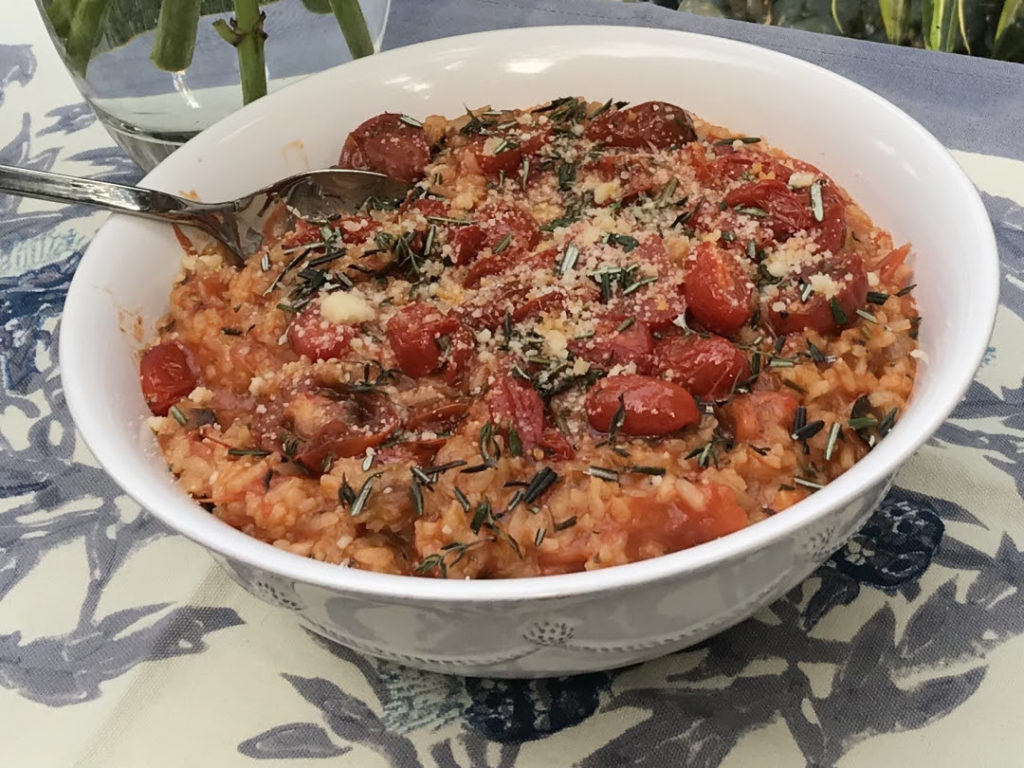 ---
Buying and preparing the best of summer produce to enjoy well into winter is definitely on my "End of Summer To-Do" list every year. I think you'll be glad you put it on yours, too.
All my best,
Claudia