It Truly Was Like Magic – A Client Interview
---
Earlier this summer, we were recommended to a couple moving into the Sheridan at Green Oaks. After spending more than 40 years in their family home, their upcoming move left them feeling overwhelmed. Once they were settled into their new home, we sat down with them to talk about their experience with CMFTO and rightsizing. This is their story:
---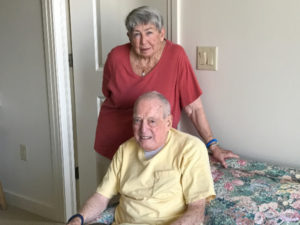 CMFTO: You were referred to us by the sales team at Sheridan at Green Oaks, but what made you decide you needed help in the first place?
Rosemary: I had gotten so tired just pulling the house apart. I had no clue how I was going to pack up and move.
John: [Hiring CMFTO] was the best bang I ever got for my buck.
Rosemary: It truly was like magic. They were so efficient, it was wonderful. It really saved our lives.
CMFTO: How so?
Rosemary: Well, I had already made lots of trips to Goodwill. After 40 years in a house, you accumulate so much stuff. It's in the basement, the attic-
John: -the closets!
Rosemary: And the closets. Yes. It just got to be too much for us. Having help really saved us.
John: Everyone [the CMFTO team] was very impressive. Merrilee knew exactly what she was doing. She came out to our apartment in advance and measured everything, then helped us sort out and decide what to take with us.
CMFTO: Yes, it helps that we come out and make a floorplan in advance. How about the actual day of the move? How did that go?
Rosemary: They did everything. Even our closets were all hung and color coordinated! It was wonderful. And you know that "whatever" drawer that everyone has?
CMFTO: Yes?
Rosemary: They took care of that, too.
John: They made it all extremely easy and efficient.
Rosemary: And it made our kids so happy, too, knowing it was all taken care of, and so professionally. Now is our time to read and enjoy life. We don't have to worry about things like stairs or a basement laundry anymore – or even cooking!
(laughter)
CMFTO: So, this was a good decision and a good move?
Rosemary: Honestly, we would have done it sooner if we knew this would be the end result. And everyone was so nice.
John: I can't praise them enough. I was extremely pleased.
---
John and Rosemary are the epitome of Rightsizing Done Right™ and we wish you all the best as you begin this new stair-free and worry-free chapter of your lives together.
All my best,
Claudia