A Great Recipe for the Big Game
---
7-Layer Salad
Right about now, after all the holiday feasts and the darkness of winter, our bodies start craving something a little bit "fresher." Maybe it's just us, but we love the idea of making a hearty salad for the Super Bowl.
A couple of years ago we stumbled on this recipe in Real Simple magazine (which is a refreshing take on the classic 7-layer dip), and we have loved it ever since. We hope you enjoy it as much as we do!
---
7-Layer Salad
Ingredients
1/2 cup sour cream
1/4 cup whole buttermilk
2 Tbsp. fresh lime juice
2 Tbsp. adobo saude (from canned chipotle peppers)
2 1/2 tsp. kosher salt, divided
2 tsp. ground cumin, divided
1 Tbsp. canola oil
1 sm. yellow onion, chopped (about 1 cup)
1 lb. lean ground chuck (80/20)
1 1/2 tsp. ancho chile powder
1 15-oz can pinto beans, drained and rinsed
2 medium tomatoes, chopped
1 romaine lettuce heart, chopped
4 oz. Cotiha cheese, crumbled (about 1 cup)
1 lg. ripe avocado
1 cup tortilla strips or chips
Directions
Whisk to gather sour cream, buttermilk, lime juice, adobo sauce, and 1 tsp each of salt and cumin; set aside.
Heat oil in a large skillet over medium-high. Add onion, beef, chile powder, and remaining salt and cumin.
Cook, stirring to break beef into pieces, until browned (about 6 minutes).
Add beans and cook until heated through (about 3 minutes).
Arrange salad in layers (or on a platter, as above), as follows: meat mixture, tomatoes, romaine, cheese, avocado. Drizzle with dressing and add tortilla strips or chips on top.
CMFTO Hints (to make it your own)
Swap out the ground chuck for ground turkey
Instead of sour cream, try Greek yogurt.
Don't like pinto beans? Black beans are a great substitute.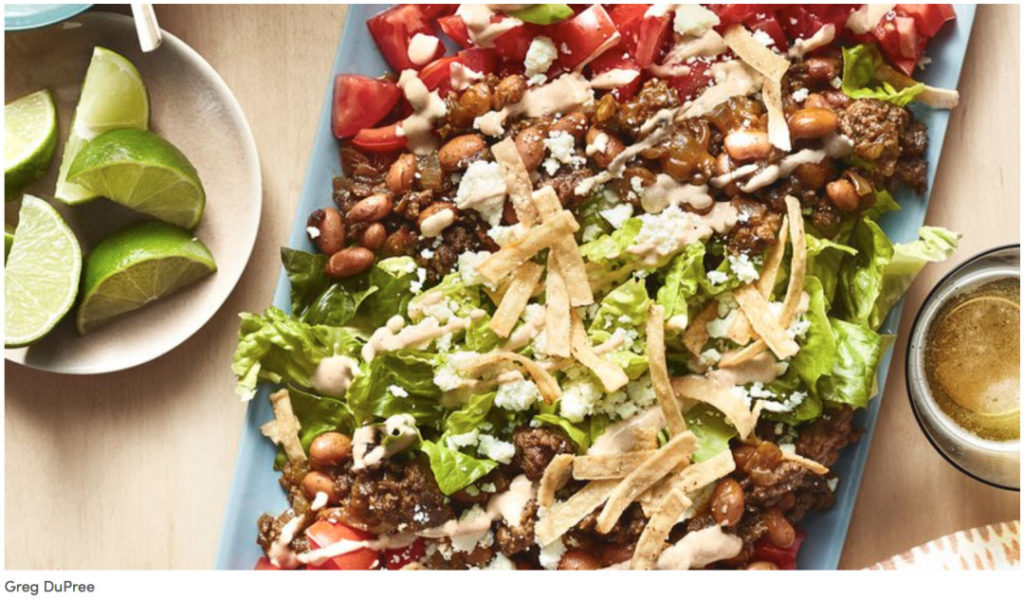 ---
We love this fresh take on an old classic, and we hope you do too!
All my best,
Claudia