Giving Thanks and Giving Back
---
CMFTO's Charity of Choice 2018
Thanksgiving is a day of gratitude and reflection. At CMFTO, we are grateful to local organizations making an impact in their communities, and one of our favorites is North Shore Exchange.
This year, we attended NSE's Awards dinner where we were introduced to Curt's Café – an organization that is consistently helping to change the lives of young adults. We were so inspired by their work, we have decided to donate a percentage of our profits to help these young men get through the winter with brand new coats.
The week before Thanksgiving, our team went shopping at our local Eddie Bauer store, and (with the help of their team) we selected a new coat for each young man working at Curt's Café.









A few days later, we happily gave the young men their new outerwear, which we hope will keep them warm this winter. We extend our thanks to the staff of Curt's Café who helped facilitate the donation, as well as the Board President, Rick Marsh, who joined in on the fun with us on a wintry morning.








During the season of giving thanks, it's also important to give back. That's why we have chosen Curt's Café as our charity of choice for 2018. We hope you will take the time to learn more about their mission.
With gratitude and best wishes for a very Happy Thanksgiving,
Claudia
---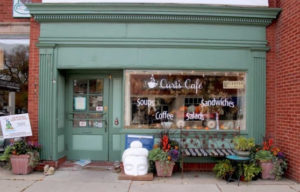 With two locations, Curt's Café improves outcomes for young adults living in at-risk situations through work and training. By providing life skills, job training, job placement, and post-placement support to these young men and women aged 15-24, Curt's is helping to change the course of their lives.
For the young adults living in poverty in Evanston and the greater Chicago area, Curt's is often a bright light in an otherwise bleak future. Not only do they receive support and training, but they build relationships and connections that positively impact their daily lives.