The Over-Scheduled Woman's Guide to Giftwrapping
---
A CMFTO Top Tip
If you're like us, right around now you might be thinking of how you're going to wrap the piles of gifts you've ordered from amazon in the next few weeks. It's one of the busiest times of the year, and we all feel it. But how many of us have stayed up late on Christmas Eve to wrap the gifts we had tucked away for the past month, or opted for the "easy" solution of a gift bag and tissue paper?
Well, you're not alone. But, CMFTO is here to help! We've scoured the internet to come up with fun and easy solutions to the gift wrapping dilemma, and it all comes down to these three simple tips: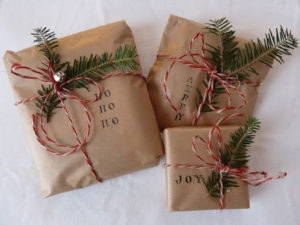 1. Choose coordinating papers for big impact. You can keep it simple and wrap everything in the same color (we love the simplicity of this brown paper wrapping example from Revlaband). Or you can buy rolls of wrapping paper in the same color palette (think metals like gold and silver, or shades of green), and vary the ribbons. Either way, get ready to create beautiful packages that people will love to receive!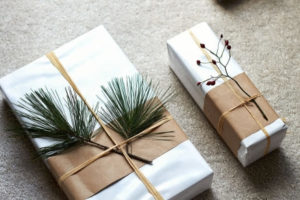 2. Use natural items. Ribbons are beautiful and come in a seemingly infinite array of colors and textures, but using everyday (or found) items to decorate your gifts can really make them stand out. Think: twine, craft paper, pinecones, evergreen sprigs. There's a simple elegance to every gift when it's wrapped with love… and a touch of nature. (This example from Eatwell101 is rather stunning.)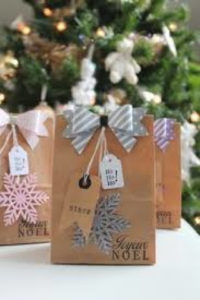 3. Make hostess gifts easy. With all the holiday parties we have to attend, it can be easy to overthink what to give your hosts and how to present it. But the easiest way to address this issue (while still keeping it meaningful) is to share what you love. Have a favorite bottle of wine? Or bubble bath? A favorite jam, box of chocolates, or scented candle? Buy multiples of your favorite item and use simple gift bags with custom gift tags and a beautiful ribbon for the perfect grab-and-go gift. You'll be ready for every event throughout the season! (Pro-tip: Keep a few extra on-hand for unexpected visitors.)
All my best,
Claudia