A New Start at 86
---
After living in the same home for 54 years, our client, Joyce, made the proactive decision to let go of her beloved 2-story home and move into a Senior Lifestyle Community to be closer to her children. We had the privilege of helping her make this transition, which resulted in a new start at the age of 86. Here's her story:
---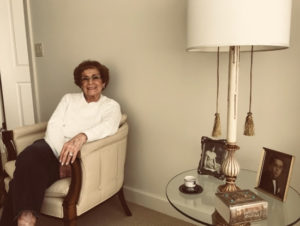 My husband and I moved into our home over 54 years ago. It was our second house together, and though we thought about moving once along the way, it never happened. Unfortunately, he passed 13 years ago, and after a while, my kids started asking me to move closer to them, which meant giving up our large 2-story house. In all honesty, I knew the stairs were becoming a bit of a challenge, but it took a while for me to be ready to change everything. Once the decision had been made, however, the real work began. I was unsure of how best to proceed, and that's when my new retirement community recommended Claudia and CMFTO to us.
Working with Claudia's team made everything easier. It was very helpful to have someone help us sort through all the decisions, including what movers to hire, what to pack or sell, and what kind of pricing to expect to get it all done. Once the move was complete, the CMFTO team unpacked everything on site, and even returned to help me move a few things around to make it feel more like home. I haven't settled in completely yet, but I am content with my new place and living closer to my children.
It's not often that you get to make a new start in life, and it has definitely been worth it. I now get to spend more time with my growing family, which has been the biggest blessing of my life. – Joyce Davis, IL
---
Joyce, we are so happy that you are closer to family and get to enjoy this new chapter in your life. Thank you for choosing CMFTO to be a part of your transition.
All my best,
Claudia