Rightsizing Done Right™
---
5 Steps to Making Rightsizing Done Right™

At CMFTO, we have spent years helping clients rightsize their homes, whether they are downsizing from a large family home to a condo or senior community, or upsizing into a house that accommodates a growing family. Rightsizing Done Right™ is all about finding the right home to meet your needs at any stage of life.
As a result, we have created a simple 5-step approach to rightsizing that makes the process easier for anyone undergoing transition.
As prepping homes for market starts to ramp up, and more homeowners are getting ready to transition, knowing the best rightsizing steps is key. Here, we share our Five Steps to Make Rightsizing Easier.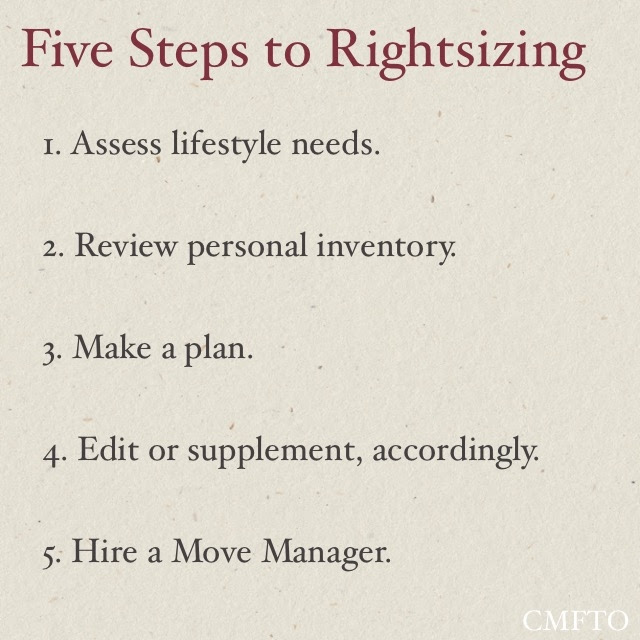 Assess lifestyle needs. It's important to understand what both your long- and short-term lifestyles needs are when considering a transition. Is a 1st floor master bedroom and bathroom important? Do you need more bedrooms? A home office? An open floor plan? These are all considerations to make when assessing your lifestyle needs for now, and for later.
Review personal inventory. Take stock of what you own, and, more importantly, what you use. How much storage do you need in your new home? What kind of kitchen would serve your needs? What do you currently own but never use? Or, what do you always find yourself reaching for on a regular basis?
Make a plan. Every transition is made easier with a plan, which is all about finding your new dream home. Whether it's surfing the internet, working with a realtor, or meeting with a senior community advisor, this is the most important step in rightsizing. After you've made your real estate decision, you're ready to do your furniture/floor plan.
Edit or supplement, accordingly. With a plan in place, it's time to edit and remove the items that are no longer useful (ideally via sale, donation, or recycling) and purchase or repurpose existing items to supplement your new plan and meet your needs.
Hire a Move Manager. While doing it on your own is possible, it's also stressful and overwhelming for the majority of people. There's a reason moving is always on the list of top life stressors. Hiring a Move Manager to oversee – and install – your move is one of the healthiest decisions you can make.
Now that you know the 5 Steps to Rightsizing, we hope you'll use this valuable tool to assist you in your planning. And, as always, CMFTO is here to help make your life easier.
All my best,
Claudia