The Perfect Memorial Day Salad
---
Memorial Day is the unofficial start to Summer. It's a weekend when we break out our grills and prepare for the coming months of longer days, fun festivities, and delicious fresh food.
To get your weekend going, we want to share one of our favorite recipes for a very fresh summer salad. With all the ingredients easily sourced at your local farmer's market, what are you waiting for? Dig in and enjoy!
Cucumber Salad

**modified from allrecipes.com**

INGREDIENTS:

1/4 cup cider vinegar
1 tsp sugar
1/2 tsp salt
1/2 tsp fresh dill, chopped
1/4 tsp ground black pepper
2 Tbsp olive oil
2 cucumbers, sliced
1 cup sliced red onion

for a nice variation, add tomatoes
In a large bowl, mix the vinegar, sugar, salt, sill, pepper, and oil. Add cucumbers, and onion. Toss, and let stand at least 15 minutes before serving. Enjoy!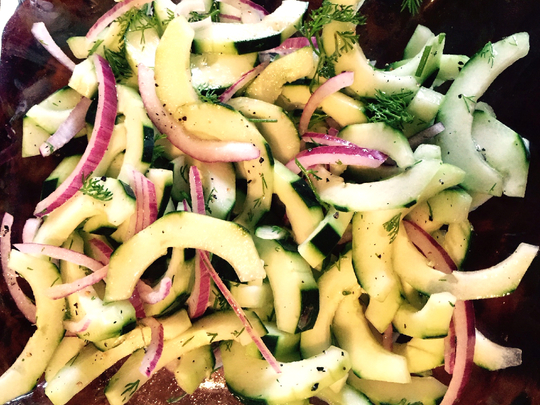 All my best,
Claudia