The Rightsizer Rightsizes: A Very Personal Design Reveal!
---
For years, CMFTO has specialized in Rightsizing Done Right™ — that is, helping clients relocate from their current home to one that better suits their needs, whether that's a growing family moving into a larger place or empty nesters looking for a smaller one. In either case, the goal remains the same: to create a customized, curated space.
Recently, I decided to rightsize after finding a beautiful property through a bit of serendipity. In 2022, I was preparing a client's home for market when I was suddenly struck by how the space resonated with me. The top-floor location offered wonderful natural light and a lake view (I'm always inspired by the outdoors!), hardwood walnut floors that would play well with my furniture, and ample storage. What's more, a modern kitchen had recently been installed with high-end appliances, allowing me the time to tackle renovations in the bathroom and elsewhere.
I planned and designed my new home — which also serves as my office — with a concise and minimalist aesthetic in mind. Transitional, clean-lined pieces and a fresh, neutral palette help open up the space and create an optimal flow. Vignettes on several surfaces add welcome pops of color and allow me to celebrate my favorite things every day.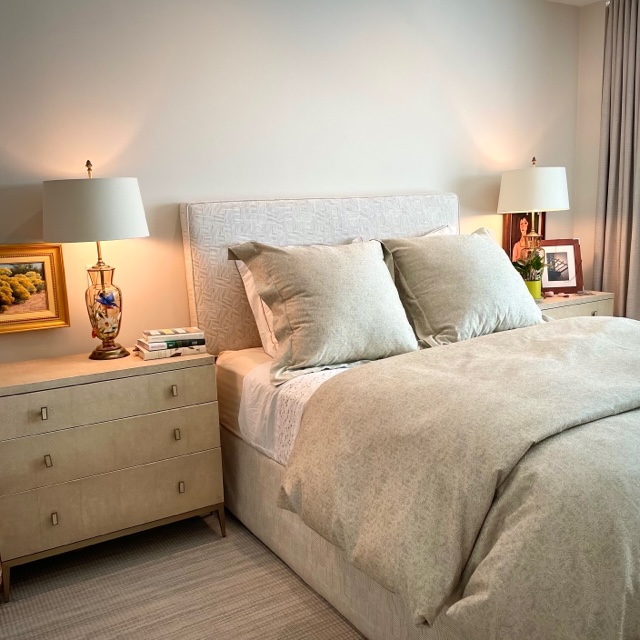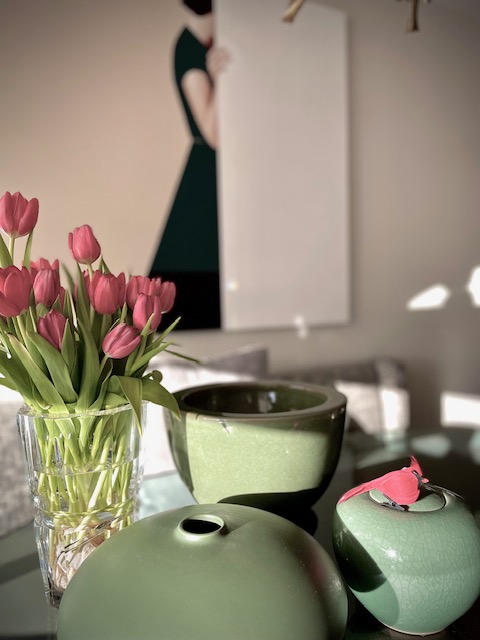 Versatility was another guiding principle in my design. Multi-purpose spaces and furnishings make any rightsizing project easier, as they create inviting and functional areas. In my new home, for example, a custom banquette not only anchors the dining room; it offers additional seating when entertaining and an additional work space and conference area when the CMTO team meets. (Upholstered cubes and two dining chairs in the dining room can be moved to the living room, as needed.)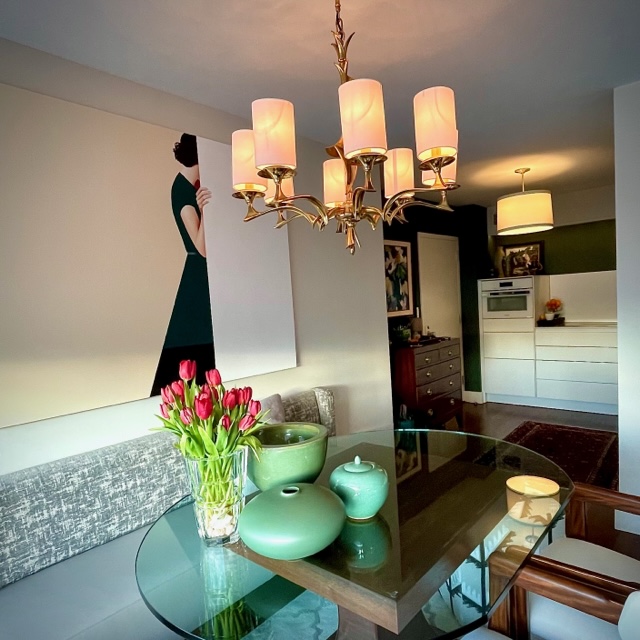 Similarly, a midcentury Alfonso Marina cabinet helps define the entryway, while also serving as a "mantle" for a large mixed-media piece by my deceased brother-in-law, Gale Bennett. Additionally, the ebony and bronze-accented cabinet holds office supplies and crystal stemware, making it the perfect elegant and useful piece.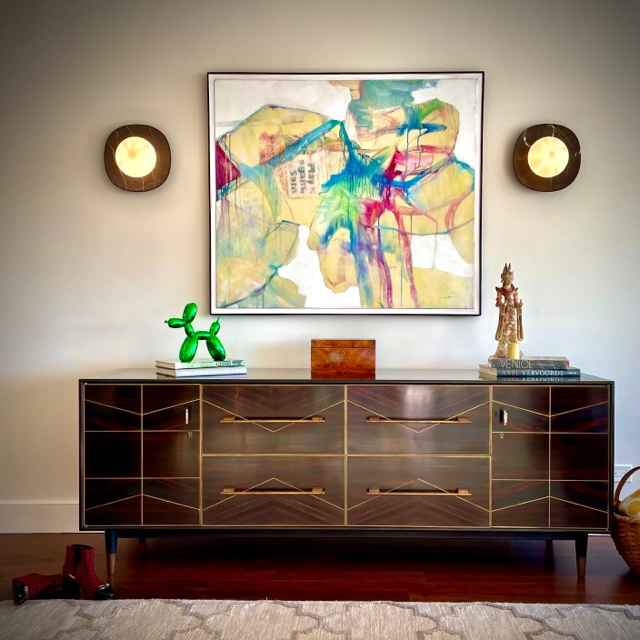 While I was able to use many long-treasured pieces in my new home as-is, I customized several items to fit the specific space and aesthetic. That included a sofa, which was reduced in length and reupholstered. A Holly Hunt chair was also reupholstered, using a heathered GP&J Baker fabric from Kravet that added luxe texture to the nature-inspired palette.
Renovations included removing all the walls to accommodate additional electrical for wall and ceiling lighting, humidification and new heating systems, as well as enlarging the bathroom (which does double duty as a guest powder room) by an additional foot. This key change will allow for accessibility in the future, if needed, and will likely be important for resale.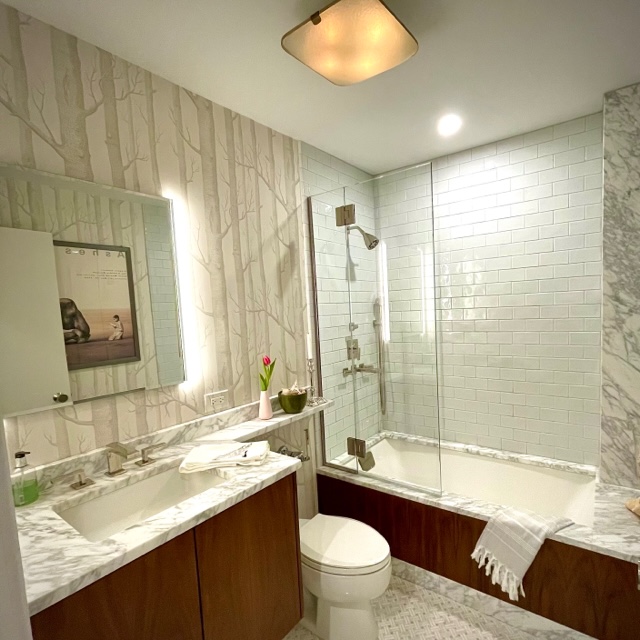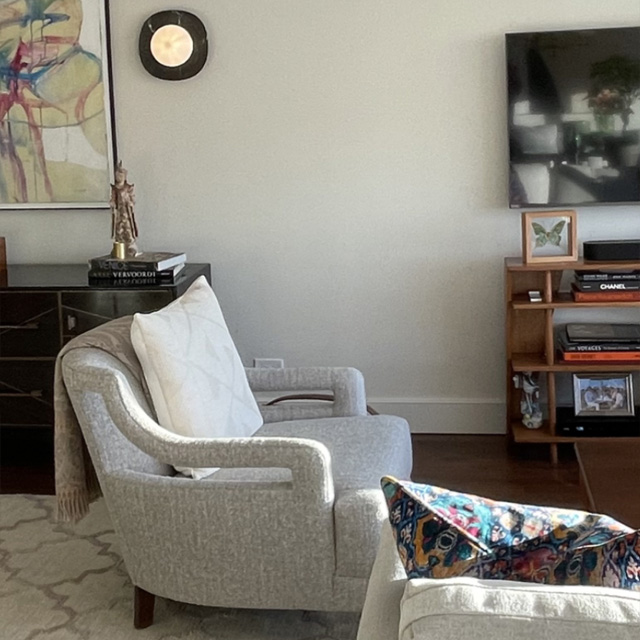 Editing the belongings in my previous home — and bringing only those that made sense for my new, minimalist space — involved finding new homes for some cherished items. On the plus side, letting go of some pieces gave me dreaming room for a long-desired painting by Erin Cone, whose work I first saw in Santa Fe, New Mexico, nearly 20 years ago. Now, the gorgeous painting hangs over my banquette — a new "friend" and welcome addition to my home.
Rightsizing my own space was a wonderful reminder of the process I've been privileged to assist CMFTO clients with for years: refining your home to create a beautiful, functional space so you're surrounded with the things you use and love. Another upside: I no longer have any extra space for that catch-all room many of us have! Just like my clients, I find that the more space I have (or had), the easier it is to fill it with unwanted or unnecessary items. My new home is curated, compact, and wonderfully versatile.
If you've been thinking about rightsizing, we'd love to help you create the perfect space for your needs.